Om oss
Stefan Hallman's TESTIMONY, VIDEO AND BIOGRAPHY Coming Soon…..
MARIA HALLMAN
The Apostle Paul wrote to his disciple Timothy "I think of the sincere faith that is in you, which first existed in your grandmother Lois and your mother Eunice and now, I am convinced, also there with you."2 Tim.1:5
I had a praying MA, GRANDMOTHER, Grandmother. I am 6:generation Christian in the mother's side and father's side were the Pentecostals of several generations.
GRANDMA Hulda Kunigunda Isaksson. Birthplace 1892 dog 1975. Got married 1912 as 20 old with Gustaf Johansson, became a widow already 1935, 43 year-old left with 8 child. The youngest was only a few months, and my mother was the oldest. Not only are all the children, she stood alone with the whole farm, horses, cows, fields and woods. She was a member of Sävsjö Missionsförsamling and there was blowing winds of revival. Many were saved and on Good Friday 1952 came 25 new members into the church. In this revival, I grew up, slept between the pews and as soon as church doors were open, we were there, it was never discussed whether we would go, it was a matter of course. The congregation wanted to evangelize and reach the unsaved, and they asked for a summer. My grandmother Hulda felt in her heart that she wanted to donate land at the lake to where the assembly would be able to build the summer home Solhaga. 1956 it was completed and inaugurated, then I was 3 years. Still, it is in full operation every summer. I sang on their 25 year anniversary and we were there when they celebrated 50 anniversary. Grandmother was a praying mother. My grandmother grew up in a deeply religious home, among many siblings. In the home, it was prayer and Bible reading, and it is said that man knelt and prayed before bjudningarna started. From 1956 we go back 100 is for 1856 when my Grandfather Gustaf Pettersson 1818 – 1894 was named the church hosted in Vallsjö Church.
KONVENTIKELPLAKATET abolished 1860 when my Grandfather 42 years. Surely, he worked for the abolition konventikelplakatet. With this began Friförsamlingarna come up like mushrooms. Churchwarden at this time was a high position. He was responsible for church property, staff people, made payments to the poor, disease, backward and orphans. My Grandfather had royal- Medal of Oscar II 30 year old services. "FOR zealous and devoted service to the state" Many of my relatives on my mother's side emigrated to America. They settled in Texas and New York where they started churches, built Methodist churches. Pionäranda, Grovrbetare, rebels justice, prayer and Bible reading are my heritage.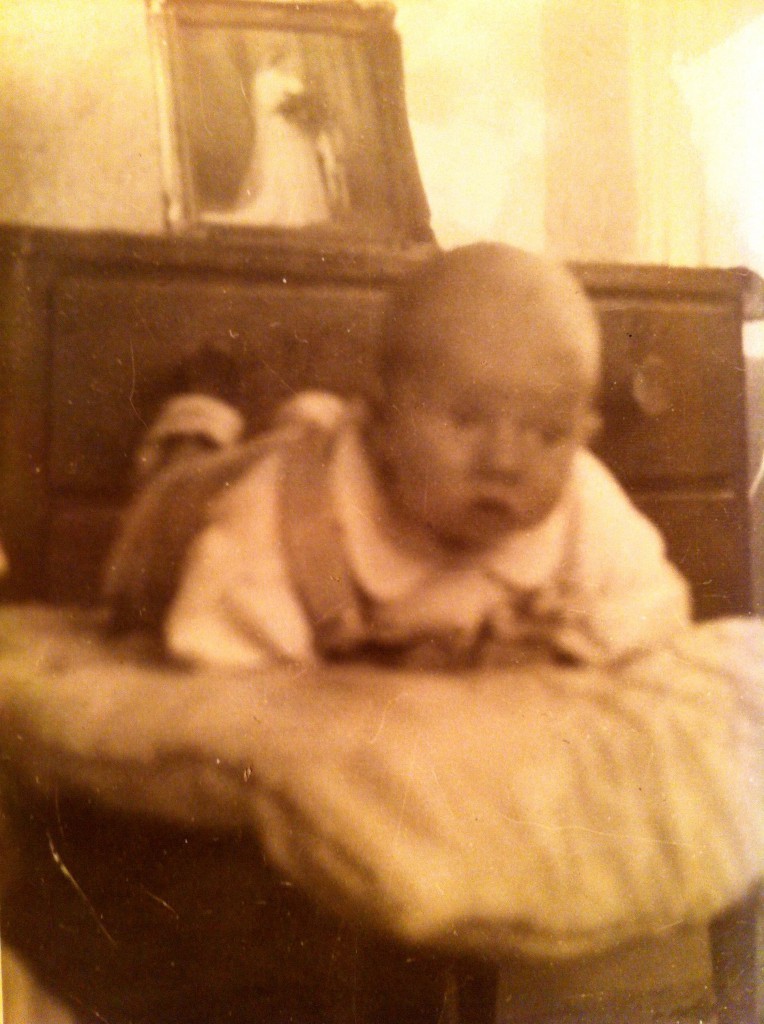 Karl-Gustav Zackeusson 4 months 1946
I was the youngest of a sibling group of four girls. Men 7 years before I came into the world got father and mother to a son, Carl-Gustav Zackeusson who was born and died after 4 months 1946. His name he was given by the Swedish-born Crown Prince Carl Gustaf Folke Bernadotte, our present King Karl XVI Gustav. born 30 april 1946. Our Carl-Gustav died in hospital in Jönköping out pneumonia, the so awaited son, after receiving 2 girls. I think my father mourned something incredible, because he wanted to have an assistant and successor at the gas station Shell. After this tragic death did dad and mom to two girls and the youngest, I was. I think I have been a disappointment because Dad was so keen to have a boy ? I was 3 year when I sang my first solo at symötet home and I was 3 when I started to go ski boots on the ice rink next door to us. After all the ladies had gone home after symötet, I put in order all the chairs on its place at home and in addition I drank from kaffeslurken that was left in some of the coffee cups before they were out in the kitchen for washing. At 6 age I was with my father and mother to the Salvation Army CONGRESS IN STOCKHOLM where my older sister Guny 16 was inaugurated as the Salvation Army. Thousands of people, Band, song and music, revival in the air, Suddenly I felt the Spirit of God to heat and light directed toward me for the first time in my life, experience of God's presence was so strong that I turned to the mother and said; "I also want to be a soldier". I was 10 year when I sang my first solo singing publicly in Vallsjö church in Sävsjö and I got a nice gold heart and chain memory. We were poor at home and some pocket money that my classmates were, there was no question of . Therefore, I collected newspaper and drove to the dump and got a few bucks, sold the Swedish Journal, cleaning of Rita and the 12 age with trembling knees went to Sonja Perfumery and asked if I could get a job there. They took me in and I got 2 kr. 25 cents per hour, worked after school and on Saturdays until I was 19 years.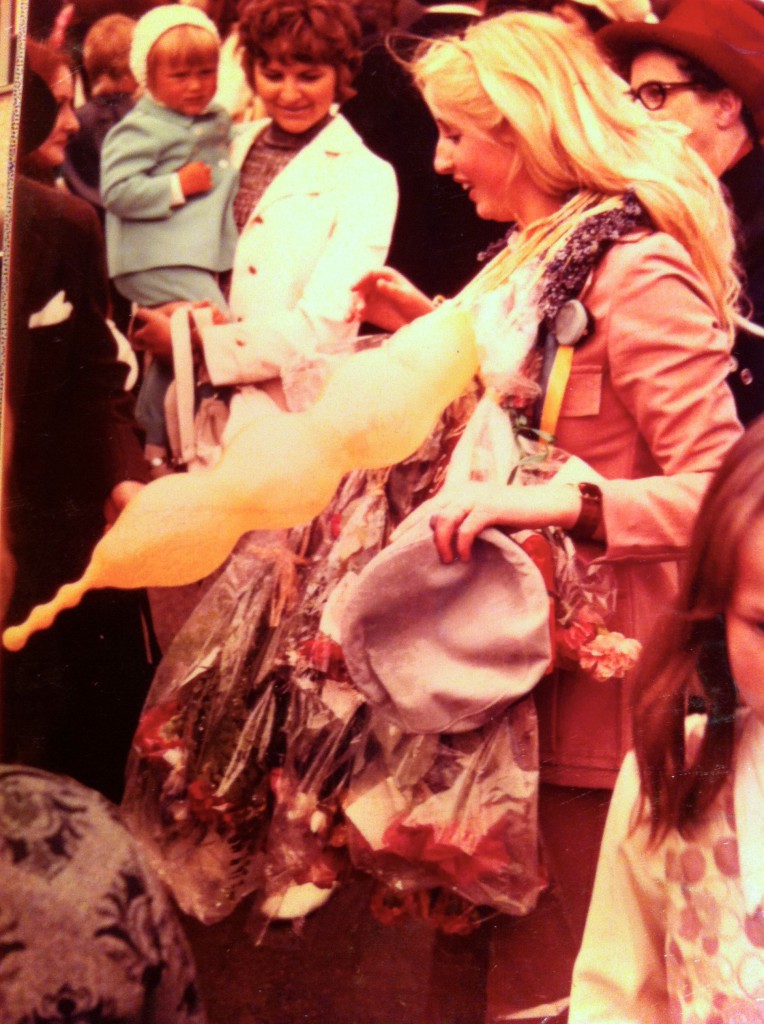 Maria Svensson (Hallman) Realexamen 1970
I was 11 years when Dad died, mother became a widow at 53 age and left with 4 teenage girls. Now began a time of transition in my life when I began to rebel against mother, Assembly and ultimately seen against Jesus. I'll never forget when the Salvation Captain Stina Ahlstrand asked me; Want to be inaugurated SALVATIONIST now Maria, then I was 13 years ? NO I replied, where I took a wrong choice had great consequences the rest of my life. The uprising resulted lies, theft, alcohol, otukt, double and sometime during the six years between 13 years and 19 years before I was saved, I was infected by genital HPV disease human papilloma virus that would later in life make me sterile. But Mom was with all bönemöterna in Sävsjö and asked for her rebellious little girl who had been so changed beyond recognition and evil. Mom was on the ecumenical bönetimman in the different churches every week. Monday free, Tuesday in the Alliance Church, Wednesday in the Pentecostal Church, Thursday Mission Church and Friday in the Baptist Church. It did not matter what she was doing, baked buns, peeled potatoes or scrubbing floors .... 10 am, she took off her apron and cycklade through town to get to the prayer meeting. Hon dog vid 88 age, been a member of Sävsjö Missionsförsamling in 70 years. I never heard her complain or say anything bad about anyone. The only thing I remember her saying;"Pentecostals do not believe we are saved". On the refrigerator door at home, she had a newspaper clipping of William Bothwell who spoke about the decline of Church and Society; "Religion without the Holy Spirit. Christianity without rebirth. Forgiveness without confession. Politics without God. Heaven without Hell."She lived and died for his family, congregation and for his Lord and Savior. Mom did not give up in prayer, and in the end she got answers to prayer. I was saved the 29 September 1972 i Citykyrkan Stockholm. I traveled from Småland to the big city of Stockholm to go to music school 1971-72. It was also an escape from home, from all that teasing about Jesus and my poor life, but I had not expected that they where Jesus People were everywhere. First day at school State Normal in Södermalm, behind Conservatory, I met Lisbeth and Lena radical Christian girls who were my classmates. One Friday night I go out to dance in the BZ in September 1972, in the middle of the dance, Neon lights and the party I just wanted to cry, something I had not done for 6 years. I go away to take the subway home to The boarding. The only thing that rings in your head is the name JESUS. Once home, I bow my knees beside my bed and read my Bible many hours that night and there alone I cry out my syndanöd and got saved. A week later I get a letter from my sister Phoebe that she had been saved at a tent meeting at the Friday night I was at BZ. Then Mom had and some collected after the meeting and asked for Maria up in Stockholm. The prayer the 45 one thousand, straight through dance music, neon lights, and into my hard, hardened heart and convicted me of sin.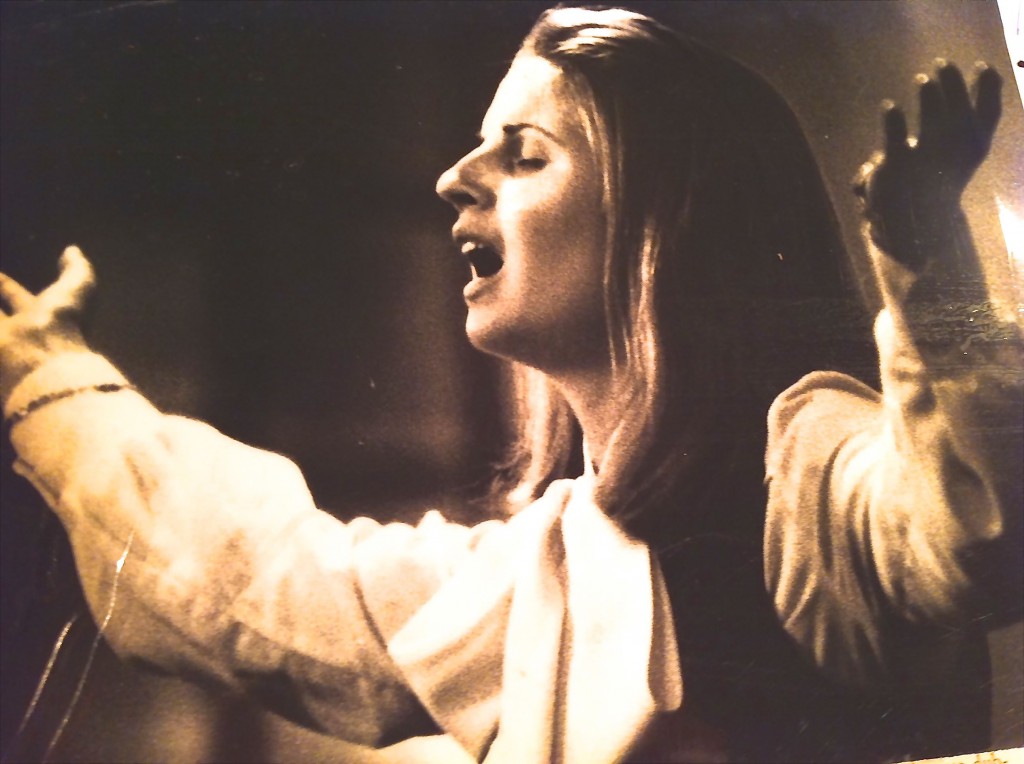 Nyfrälst Maria Svensson (Hallman) 1973
Years 1973 I was offered to become Youth Secretary of the Swedish Church. I had responsibility for 13 stone churches in Western Njudungs ​​Contract. In nine wards I had kids hours of half time and no driver's license yet. Mom had to drive me around to begin with. After one and half years, I stood before my life's most difficult choices that time. Dean lived in Stensjön offered me 5 year contract for continued service in the Church, for everywhere grew broods. The second I chose between was to accompany the family Vanya and Bjarne Andersen and 17 other young people in a bus and evangelize in Europe, which I decided to do.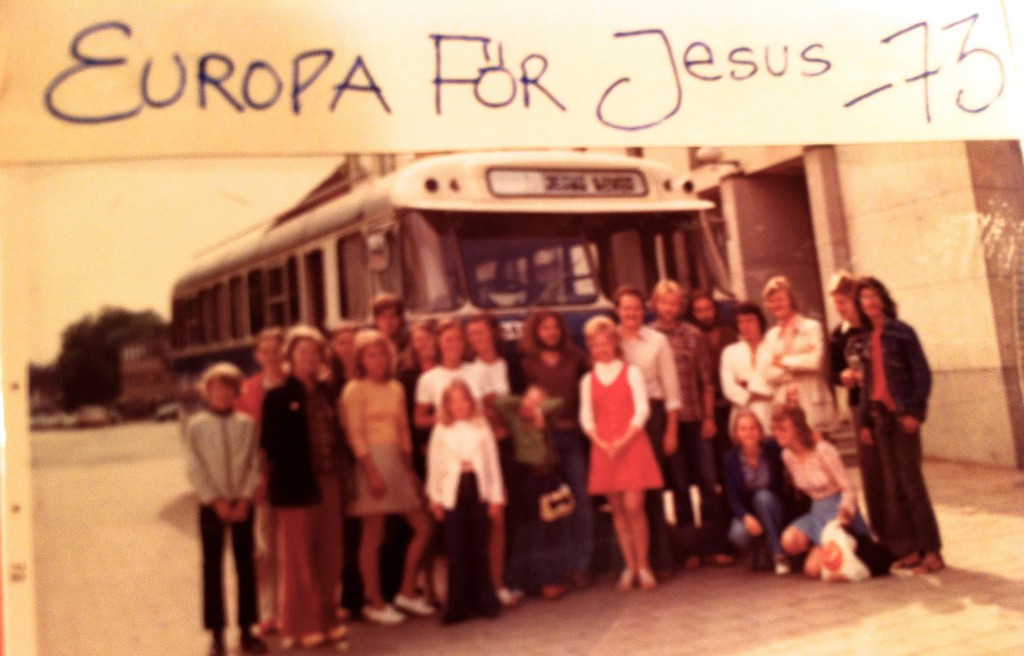 evangelist Bjarne & Vanja with 17 young people to Europe
This adventure in Europe later led to America. The first time the USA 1976, was such a transformative experience, I loved America and thrived as a fish in water. There were several trips to America and I was staying with family Bjarne & Vanja Andersen and we did encounter many travels in many different states in the US. This led to me 1980-1983 gick på Faith School Of Theology i staten Maine. I took my theological degree at FST years 1983 and stood in a more difficult choice.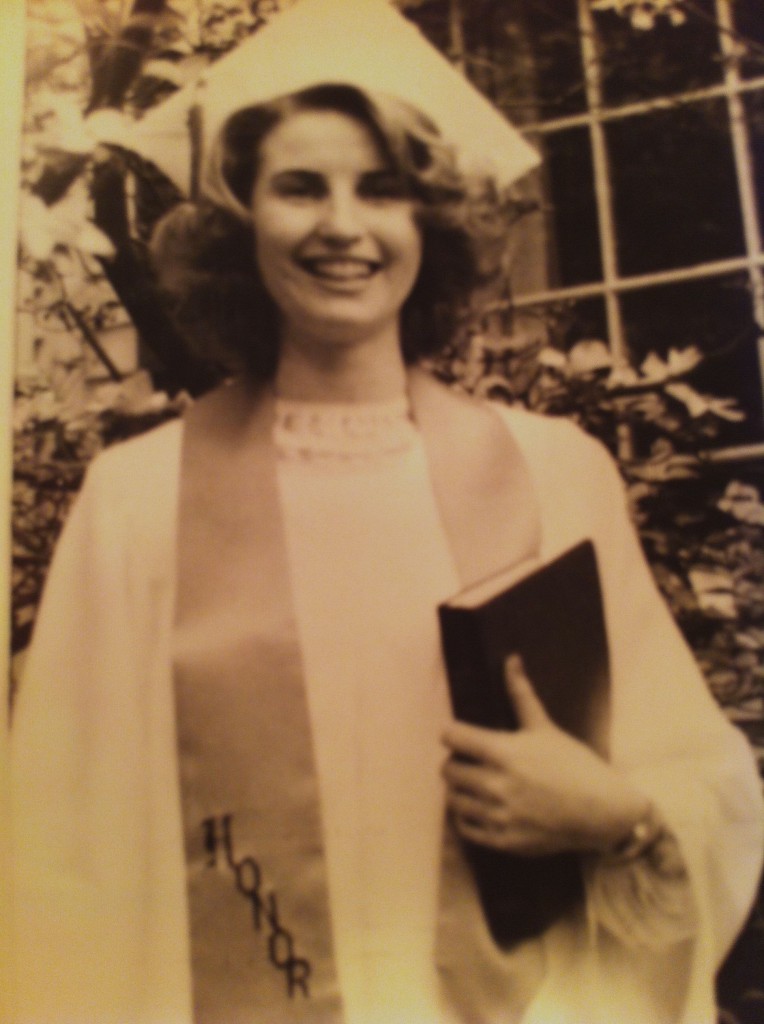 Maria Svensson (Hallman) Theologisk examen på FaithSchool of Theology USA 1980-1983
They offered me to stay in school and take care of evangelization and Radio Commission. I prayed the prayer room many many hours, I loved America and wanted so much to have stayed but in my heart I had strife. A supernatural yearning to Sweden, my native country had seized my heart, the need for Sweden was real, it was like a cold, and once again I had to leave the big for the small. I had received letters from home Sweden, oddly enough, I had been 5,6 different call letters from the Swedish congregations to participate in song and testimony, and it became. After two weeks of meeting participation in Calvary Temple in Nova Scotsia, Canada, I went home in autumn 1983 to Sweden to mom's delight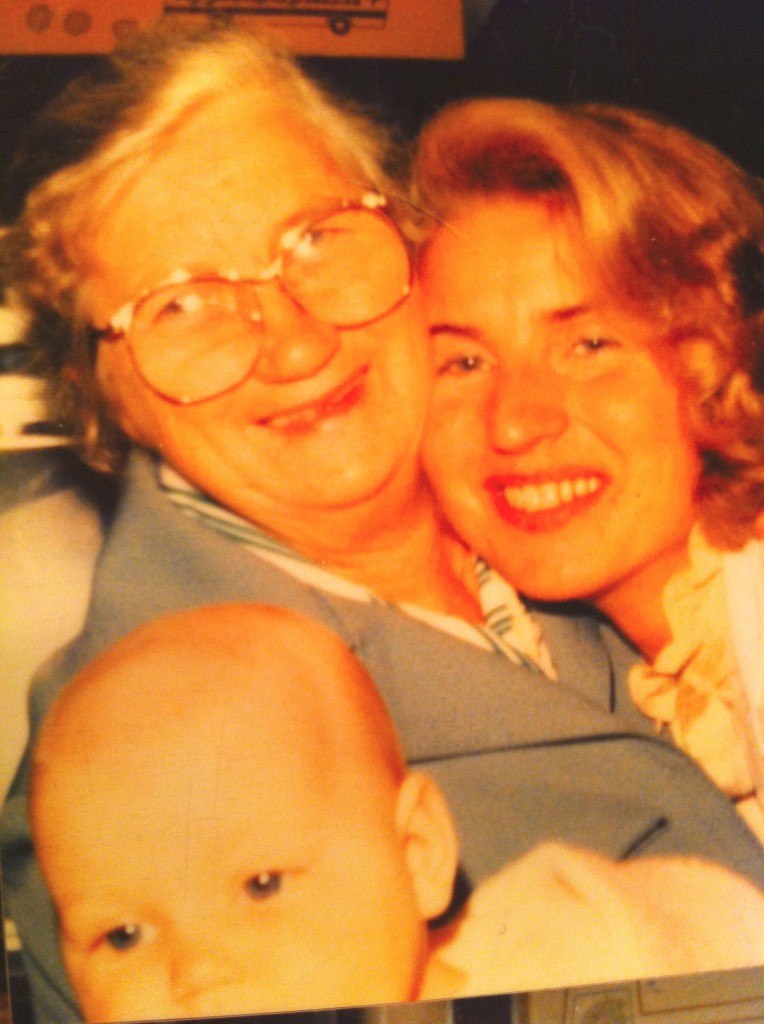 Mom Sylvia Svensson, Maria Svensson (Hallman) and little niece Johanna
Between 1983-1986 I was booked with meetings in different churches and different parts of Sweden and Norway. Mom was always ready with food and good heat after my meeting adventure in Småland and beyond. She always asked when I came home; "Was there any salvation or what are you doing" ? In late November 1985 I had received an invitation to the Pentecostal Church in Mariannelund Wednesday to Sunday. It was a full house and long meetings, 4 hours were common, 1 hour praise, 1 hours preaching and 2 hour intercession. How dried people and how I dried ? At these meetings Mariannelunds Pentecostal church, there was a young man who was an evangelist there and led worship, his name was Stefan Hallman, I could not take my thoughts away from him. The story that follows, I leave to Stefan to tell if he wants. Wedding became Midsummer Day 1986 in Church Vallsjö. Bright sunshine, full church and a fantastic day that we will never forget.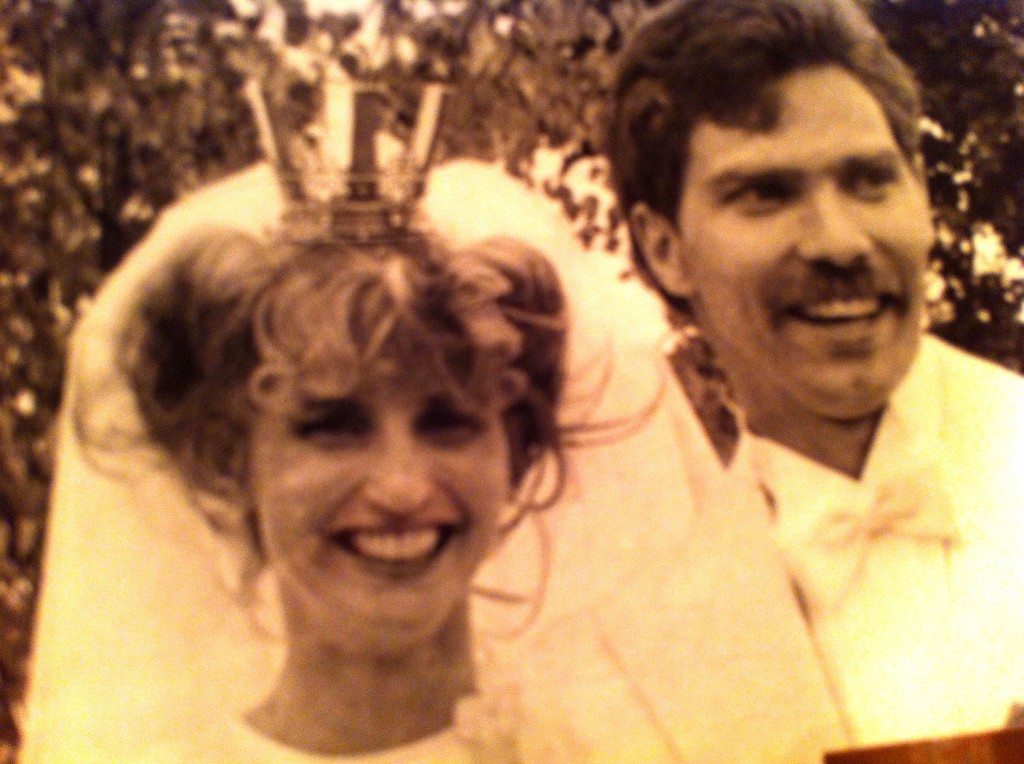 Stefan & Mary Hallman from the wedding party 1986
The joy was at its peak but would be turned into grief and despair only after eight months, when I was three months pregnant. Then it was discovered that I had galloping womb Throat Cancer; Infected by the HPV virus for Human Pappillion 15 years ago. In my rebellious and sinful Confessions of a Teenage Drama Queen, I became infected by any man. All cancer is tricky, it can hide for years, and that was what happened, and when I got pregnant, triggered the cancer is in full force. And the doctor in Eksjö informed us that I must immediately Linköping University Hospital for surgery. They sa; "You have two choices, no surgery and both die, both you and the child. Or so we operate the child, uterus, ovaries and 15 lymfar who are at risk, terrible, My first reaction was; You must not take our children, but in the end we had to go along with the cruel. Easter Sunday 1987 I came up to the sickroom, newly operated, where Stefan was waiting with flowers. We cried and we cried there was no stopping. A Danish doctor came in to our room, we have never seen him before or after, Maybe an angel, They sa; "DO NOT DROP YOUR FAITH" it was everything and then he went out again. We have a little boy named Jonathan in heaven, we look forward to seeing.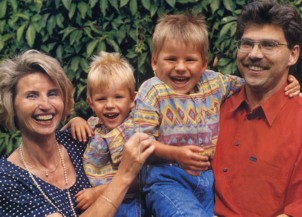 Maria, David 4 1/2, Jonathan 5 1/2, Stefan Hallman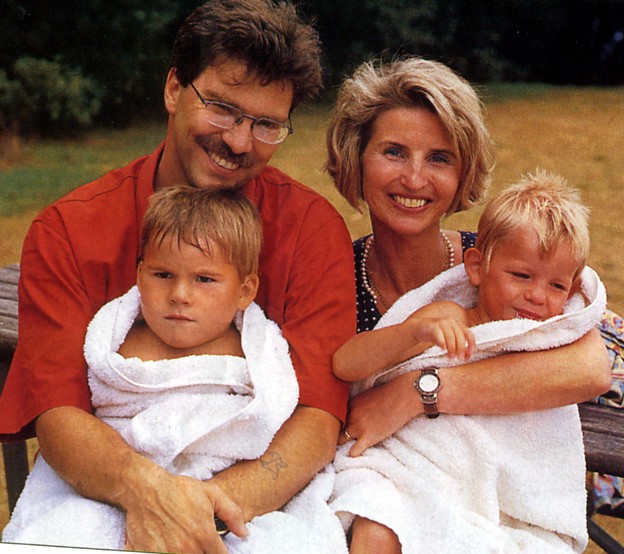 Fam. Hallman just returned from Russia 1996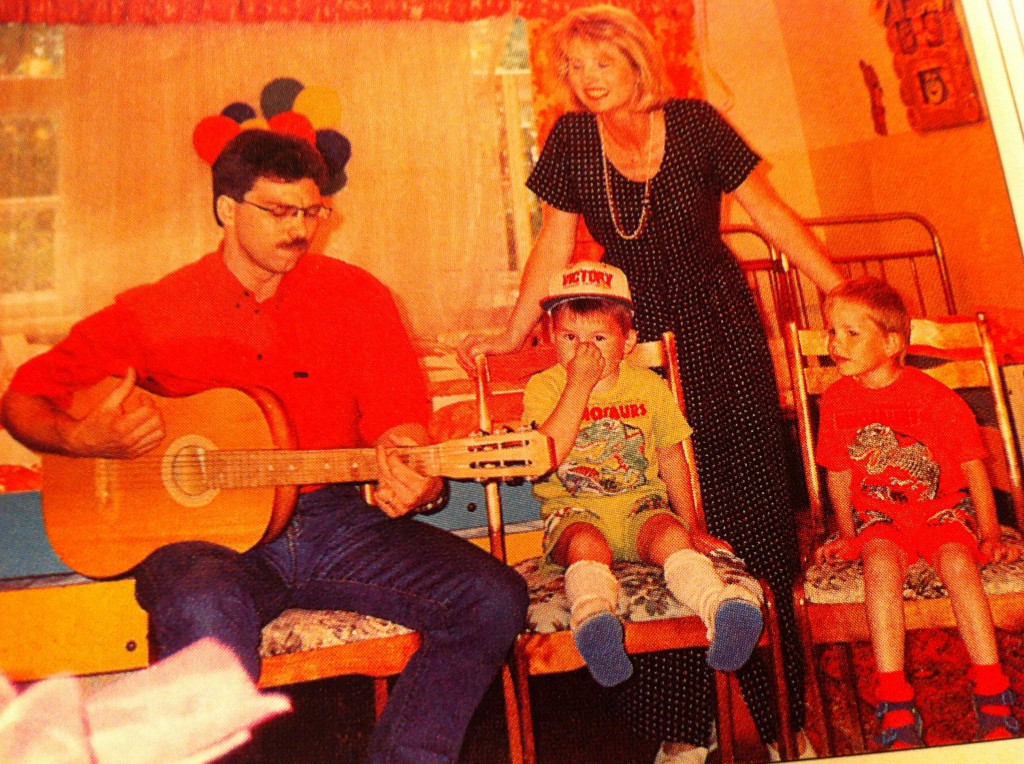 The orphanage in Nizhny Tagil;where slept, at, played, 22 children in a room.
By 10 years of marriage 1996 we adopted our boys Oleg Kislitsyn, 5 1/2 years, weighed 16 kg.och 96 cm. and Vladimir Kislitsyn, 4 1/2, weighed 11 kg and 92 cm. They are blood brothers, from the same orphanage in the city of Nizhny Tagil, Sverdlovsk oblast not far from Ural Mountains. It started a whole new chapter for us, but especially for me being a mother at 43 age. It has been a tough journey but we are grateful to our heavenly Father that He gave new strength for each day. Today, Jonathan 25 years married to Judith and they have their little son Jake 2 year and number two is on the way. David 24 years, unmarried yet, to study the "Biological medical analyst" and work in peace and quiet of a hospital in laboratory. We'll see what the Lord leads him to the future!